The AirScan 650 is a comprehensive LTE protocol monitoring solution and offers the ability to monitor and interpret traffic on the S1-UP, S1-CP, X2, S5, S8, and S11 interfaces as well as for monitoring the LTE air interface directly over the air.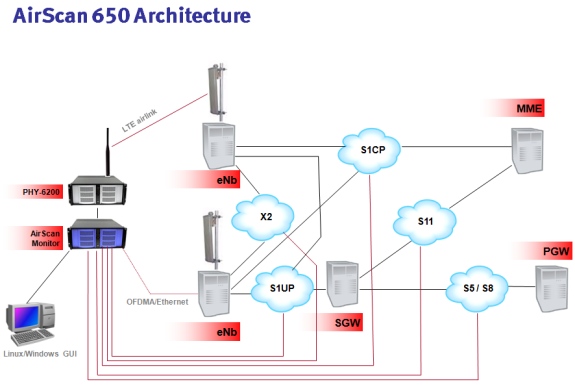 The AirScan Monitor is a conventional Linux-based PC which may be connected to the various WiMAX interfaces via 10/100/1000 Ethernet. Interfaces may optionally be setup for VLAN tagging support.
The AirScan Monitor configures, controls, and receives air interface data from the airlink transceiver via Ethernet. Tracing information is buffered to memory and spooled to disk as necessary. Idle air interface frames may optionally be suppressed from the trace .
The AirScan GUI application allows the user to configure and control the entire AirScan system and to view traces. Traces may be viewed as air interface frames, MAC Messages, or general S1/X2/S5/S8/S11 messages
Key System Features 
 
Capture and decode of S1, X2, S5, S8, S11
Correlation of traces (track MS across interfaces)
Message type statistics
High-speed data capture
Real-time and offline decode
LTE RF and Ethernet capture
Flexible filtering
Flexible output
Availability
The AirScan 650 is scheduled for release later this year