The Torrent 4100 focuses on testing Mobile IP, in particular FAs and HAs, and unlike its other counterparts is a native IP test system where the mobiles directly send IP packets into and receive packets from the network.
The Torrent 4100 XTS consists of:
MTS-4100(Mobile Traffic Simulation)
FA-4100 (Foreign Agent)
HA-4100 (Home Agent)
NTS-4100(Network Traffic Simulation)
CS-4100(Control Server)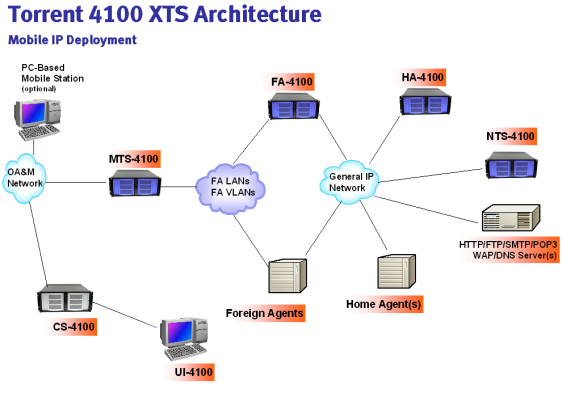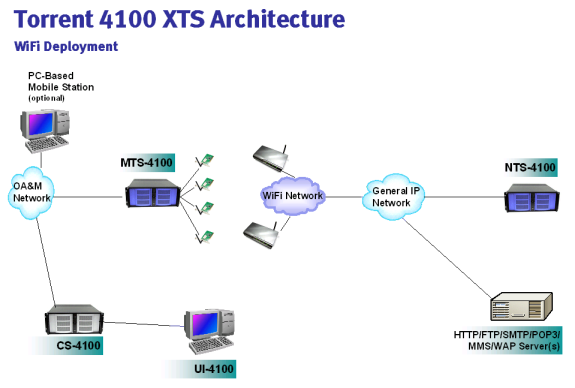 Key Benefits
Key Features
Traffic Types
Hardware and Software Requirements
MTS-4100
PC-based Mobile Station
FA-4100
HA-4100
NTS-4100
CS-4100
Key Benefits
* Most sophisticated tool available
* Improved product quality and robustness
* Reduced development and test cost
* Quality of Experience characterization
* Third party product verification by the leading tool in the industry
* Live network service assurance (the 4100 can provide background traffic in your live network)
* Simulators reduce the need to develop in-house ecosystem
* Complex traffic profile simulation
 
---
The initial release of the Torrent 4100 XTS is the most flexible WiFi and Mobile IP network testing system you can find. It contains the following important features:
Sophisticated Mobile IP implementation
GRE, IP-IP and reverse tunneling support
Extensive VLAN tagging support
More than 50 HAs spread across ports and VLAN
Mobile simulation down to the MAC address level
Extensive VLAN tagging support
Application performance testing and analysis over WiFi
---
Our rich protocol support includes: HTTP, WAP, MMS, PTT, SIP, RTCP, RTP, FTP, SMTP, POP3, ICMP, DHCP and DNS.
* VoIP - Push-to-Talk over Cellular (SIP/RTCP/RTP)
Support for SIP, RTCP and RTP is built in to the simulator in accordance with the Push-to-Talk over cellular (PoC) specifications. One useful aspect of this traffic class is that it allows you to see how well the system prioritizes the conversational traffic class over other traffic classes. To our knowledge, no other tools vendor supports push-to-talk traffic testing today for the GPRS/UMTS core network.
* HTTP
HTTP is one of the main TCP application types that is built into the simulator. Both the GET and POST methods are supported and headers may be arbitrarily configured.
* WAP 1.2/2.0
Both WAP 1.2 and 2.0 are supported; and a WAP gateway is packaged with the system to make using WAP a turn-key process.
* MMS
Support for MMS messaging over WAP 2.0 is built in to the simulator and it includes an MMSC implementation on the NTS-4100.
* ICMP
Both synchronous and asynchronous mobile originated pings are supported; that is, mobiles may generate pings and wait for a response (with built in timeouts/retransmits), or they may just send the ping and continue. Downlink pings to mobiles are also supported.
* UDP
UDP echoes are supported in a manner very similar to ICMP echoes, except that downlink echo responses may be of variable size and quantity. That is, for each uplink echo there may be N downlink echo responses of an arbitrary size.
* FTP
FTP support is built into the simulator and is particularly useful as a background traffic class.
* SMTP/POP3
Mobiles may send and receive e-mail using standard mail protocols through arbitrary mail servers.
* DNS
Mobiles may optionally resolve names to IP using DNS (over GTP), which is another realistic and unique feature of the Torrent 4100 WTS.
* Arbitrary traffic through forwarding function
Arbitrary traffic, for example HTTP sessions from a web browser or WAP 2.0 sessions from a WAP simulator may be forwarded through the simulator allowing numerous content types to be tested. Both primary and secondary contexts are supported in this mode of operation.
 
---
Hardware and Software Requirements
The Torrent series runs on third-party hardware. For best performance, we recommend:
Athlon 3500 processor or higher
4 GB RAM
Gigabit Ethernet connection
Most Torrent components run on Linux, although the user interface may be run on Linux or Windows. Acceptable Linux systems include:
Fedora Core 5
Fedora Core 4
Debian 3.1
Red Hat 9.0
---
MTS-4100
The MTS-4100 is capable of simulating up to half a million sessions from a single PC.
The MTS-4100 can interact with real application servers on all traffic types except for MMS and PTT. In these cases, it only interacts with the NTS-4100.
Because the MTS-4100 drives so much of the system, its capabilities are very intertwined with the discussion in Key Features and Traffic Types.
 
---
PC-based Mobile Station
Turn a normal PC into a mobile station within your lab environment. A unique feature of the MTS-4100 is the ability to serve as a relay for PC applications. Hook up a PC in the same subnet, and then run PC applications such as browsing and e-mail. The MTS-4100 acts as a pass-through for uplink and downlink data. The advantages of this powerful capability are:
You can quickly verify basic system sanity.
You can reproduce specific user actions occurring in field issues.
You can examine system performance from a user perspective.
It's also possible to run multiple PC-based Mobile Stations through the MTS-4100.
 
---
FA-4100
The FA-4100 is a fully functioning Foreign Agent. One useful role it can play is to eliminate the need to create a Foreign Agent function if you are testing your Home Agent.
 
---
HA-4100
The HA-4100 is a fully functioning Home Agent. One useful role it can play is to eliminate the need to create a Home Agent function if you are testing your Foreign Agent.
 
---
CS-4100
One advantage of the CS-4100 / UI-4100 is that key information about a test run is presented all in one place: results, statistics, histories and more. For example, a user can examine more than 450 Gn and Gi statistics, including packet loss and latency, organized hierarchically to see the big picture or the fine details. Statistics can be observed in user windows or exported to Excel.
 
---
NTS-4100
While the MTS-4100 can interoperate with arbitrary network application servers, it can be advantageous to run in a friendly captive office environment instead. The NTS-4100 provides network server capability, with the following types of servers built in:
HTTP
MMS *
PTT (SIP/RTCP/RTP) *
FTP
POP3
SMTP
RADIUS (Auth/Accounting)
* indicates that the MTS-4100 only interacts with the NTS-4100 for these types
The NTS-4100 acts in the following ways:
HTTP GET: Any NTS HTTP URL will be accepted. The NTS-4100 will return a block of data that is configured to be either fixed or randomly sized.
HTTP POST: Any uplink data may be posted to any NTS HTTP URL.
MMS SEND: The target of the MMS message is ignored. The data is always sent back to the sending mobile.
FTP GET: Any file path name will be accepted. The returned result (a downloaded file) will be a data block configured as fixed or randomly sized.
SMTP SEND: Mail to any address is accepted and discarded.
POP3 GET: Mail is always available and a small, fixed-size e-mail can always be retrieved.
PTT: No significant restrictions, except that group list management operations are not implemented and neither is SIP compression.
RADIUS: Support for RADIUS is built into the NTS-4100. Includes support dynamic user address assignment.
In addition, the NTS-4100 offers a built-in UDP echo server, to echo packets sent by the MTS-4100.
Finally, the NTS-4100 rounds out your view of the network with its own set of hierarchical data traffic statistics from the network perspective.
 
---
CS-4100
The CS-4100 server automatically configures, starts, and directs the MTS-4100 Mobile Traffic Simulators and NTS-4100 Network Traffic Simulators to run tests as instructed by the user through the UI-4100 GUI (either manually or via a test case).